Parkette setting along pathway.
Offers both above ground and in ground burials.
Above ground burials in cremorials.
May have upright monuments.
May have summer flower pots here.
Suitable for family lots.
Fees:
$2,500 per plot
$600 per burial
Each space is for two (or one) (or even empty and memorialized).
Lettering is arranged by the cemetery to make sure the final date is always completed.
The attraction of the Columbarium is that it is neat and tidy thus the decoration is left to the cemetery. There are to be no decorations affixed to the columbaria.
Only temporary decorations (for anniversaries and special dates) are permitted.
Fees:
Range from $4,800 to $5,025 for everything complete, no additional fees.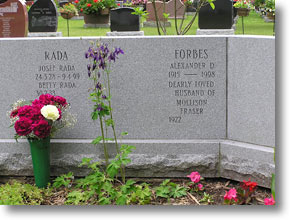 Each space may contain up to three cremains. The cremains are buried in the ground in the flower bed in front of the wall and lettering is on the wall. Lettering is contracted through the cemetery to ensure consistency.
Can have summer flowers or favorite perennial.
Fees:
$1,900 per lot.
$600 per burial.
Lettering charged per person.
The Cemetery has two areas of cremation lots.
Flat markers up to 3' x 18" are permitted and this allows more personal memorialization. Flower pots in stands may be placed at these lots.
Cremation Flat Marker Lots: Urns are buried under the flat markers.
Fees:
$1,750 per plot
$600 per burial